About TFA
In 2012 Timber Frames of Australia is proudly celebrating its 11th year of operation !
Timber Frames of Australia was established in 2001.
Working from a large framing yard in Carey Gully, just thirty minutes from Adelaide CBD, the company's elegant frames and excellent customer service have attracted clients from all over Australia.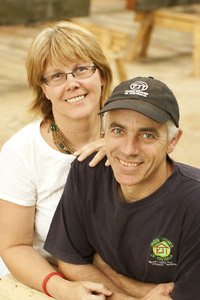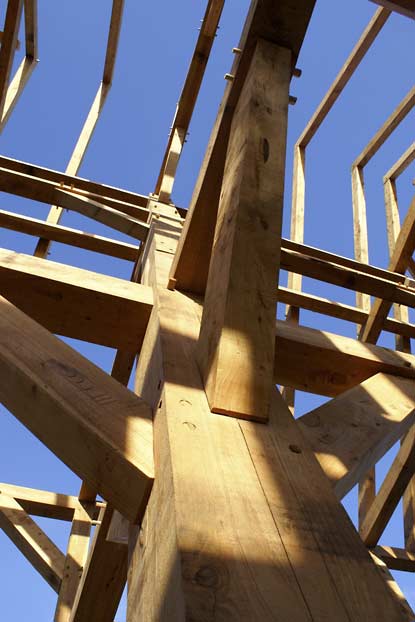 Feter and Isabelle Harwood are the founders of Timber Frames of Australia.
photo John Drury
Both grew up in Europe having been surrounded by many beautiful historic buildings.
The appreciation for the ancient craft of timber framing was certainly established way back then.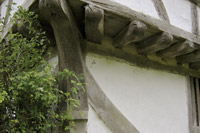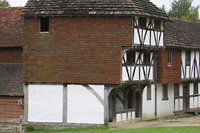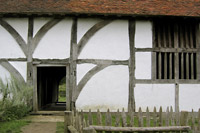 Peter and Isabelle now employ highly experienced Timber Framers, Apprentice Framers and administrative staff.
The company's Timber Framers are trained in traditional scribe carpentry, an ancient skill enabling the crafting of accurate joints between uniquely shaped timbers.
Timber Frames of Australia also runs workshops to further support this endangered profession.
Check the News page for up to date information.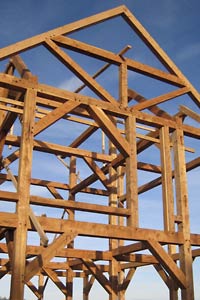 In late December 2011 a 19kw solar power system was installed on the workshop. This size system is large enough to supply the workshop with all its power, not only in the workshop but also for the office. This is one more step towards being carbon neutral and we are proud with this!