House Frames
Port Willunga – The Boat House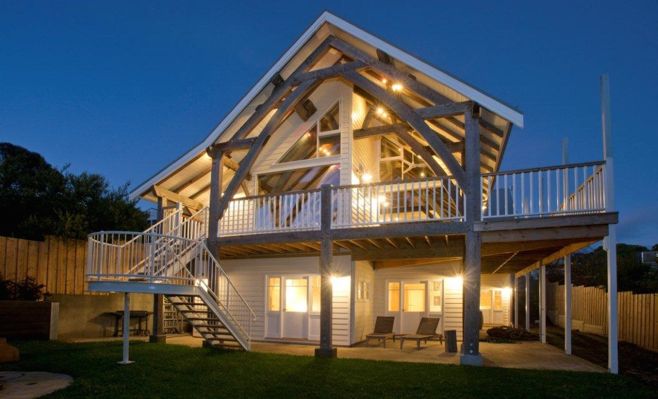 The Brief was quite simple, creating old English style barns giving the impression of these frames having been in place for a very long time. The Owners found Timber Frames of Australia after unsuccessfully trying to import a dismantled barn from England.
With this brief in mind, plans were drawn up using traditional sling braces and greyed off unseasoned and recycled timber.
The end result is stunning. A home with character that offers serenity.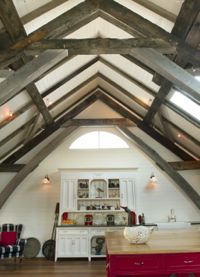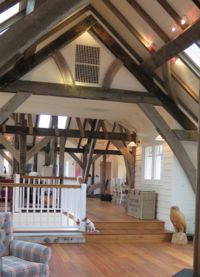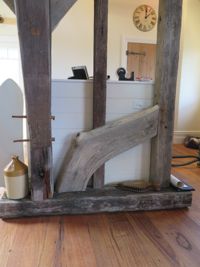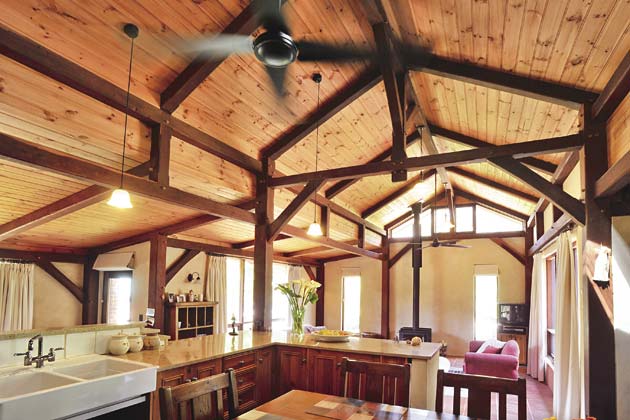 This house frame was created in keeping with the natural beauty of the customers' land.
Crafted from Red Ironbark, the total living area of the house measures approximately 180sqm comprising four bedrooms, kitchen, living room, dining room and bathrooms.
The combination of our traditionally crafted structural frame with stone walls, double glazed windows and high quality finishes has resulted in a stylish, peaceful and inspiring home.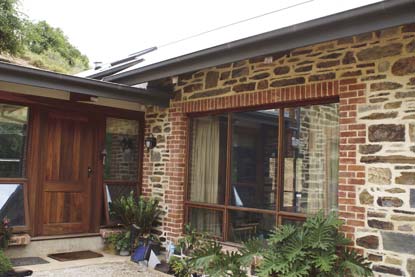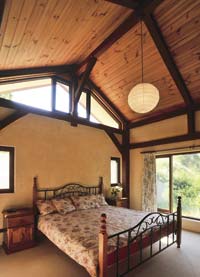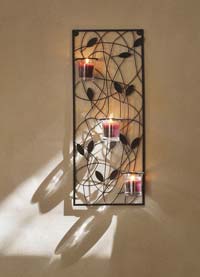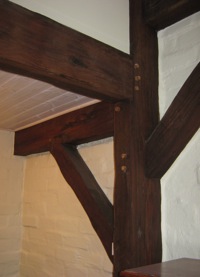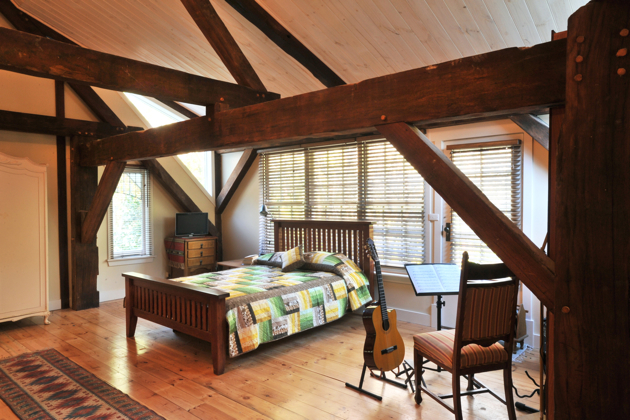 The brief for this home was quite simple – durable, strong, fitting into the landscape and achievable by an owner builder.
The end result speaks for itself. The house sits in a beautifully situated cottage garden by a year round creek in the Adelaide Hills and has ticked all the desired boxes.
Recycled timber being mainly 150 x 300, 150 x 150 and two posts at 300 x 300 where all sanded back to the beautiful colour of the jarrah and then oiled. Seeing no steel or bolts has given this home the feeling as if it has been there all along.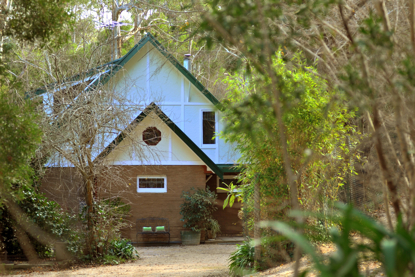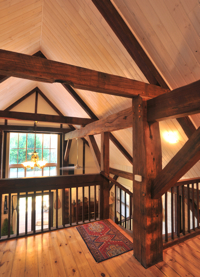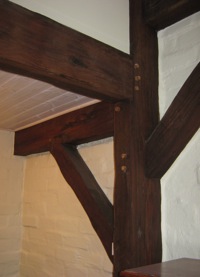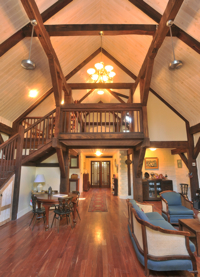 Darlington House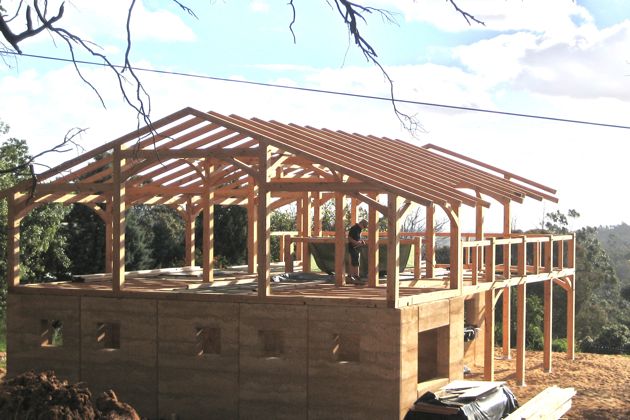 Raised in Western Australia, this two storey Cypress Pine frame was designed to sit on top of a rammed earth lower wall construction.
The house comprises three bedrooms and two bathrooms downstairs, as well as a generous layout for the living/dining/kitchen area and study upstairs. A verandah on two sides offer a stunning view over Perth in the distance.
Crafting such timber frames in our workshop and raising them interstate is a simple exercise for our team as all connections are tested prior to shipment.
Click to view some of our Garden Structures, Extensions or Other Projects.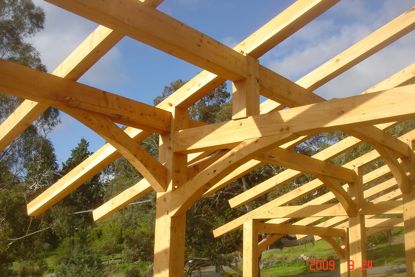 Sellicks Hill House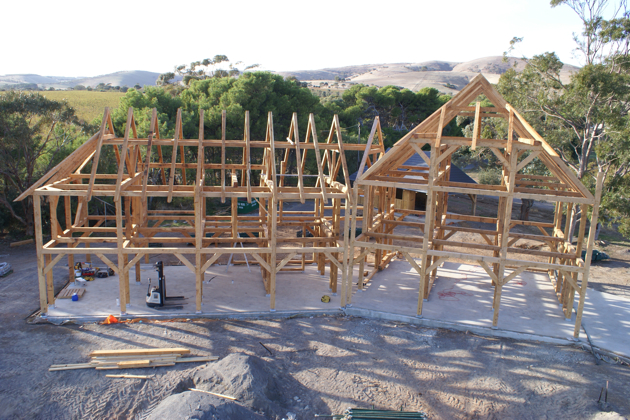 The Brief – design a timber frame to fit into plans presented with allowance of only the minutest changes.
After a bit of adjusting here and there a timber frame design was achieved and then crafted using cypress pine for the timber.
What a stunning and unique frame is now the structural aspect of this home in the southern foot hills of Adelaide.
This three bedroom house frame is approximately 450m2 in size.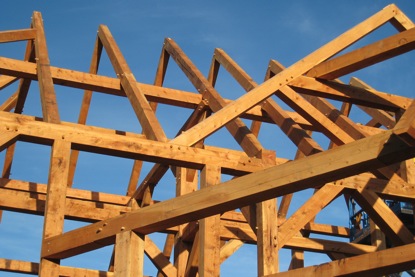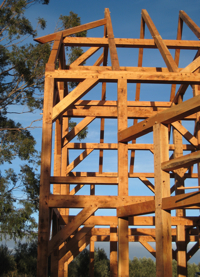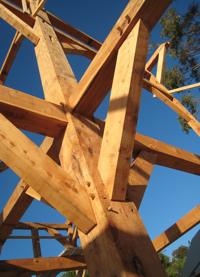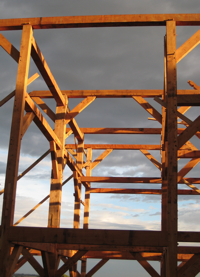 Hillbank House – as seen on Grand Designs Australia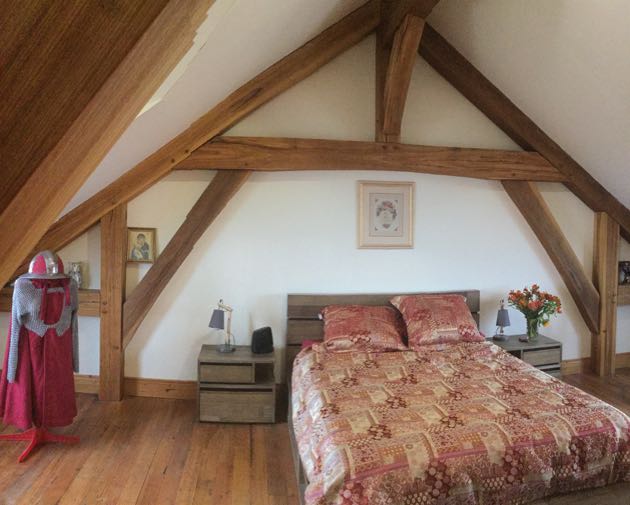 During discussions to determine the brief it was clear that this two story frame had to incorporate hammer beam trusses over the open plan living room space with a beautiful large window to give a view over the Adelaide Hill plaines.
The house was then clad with structural insulated panels and double glazed windows. The roof is sporting thousands of cedar shingles.
The finished home is one of charm and character with a strong hint to medieval times and was featured in 2017 on Grand Designs Australia.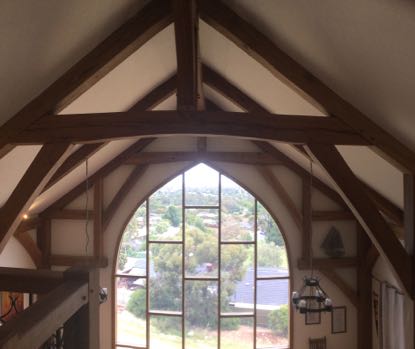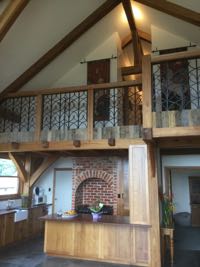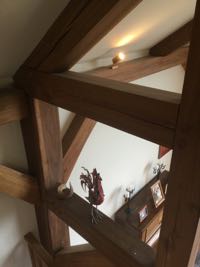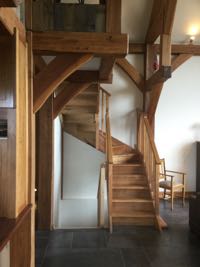 Newstead House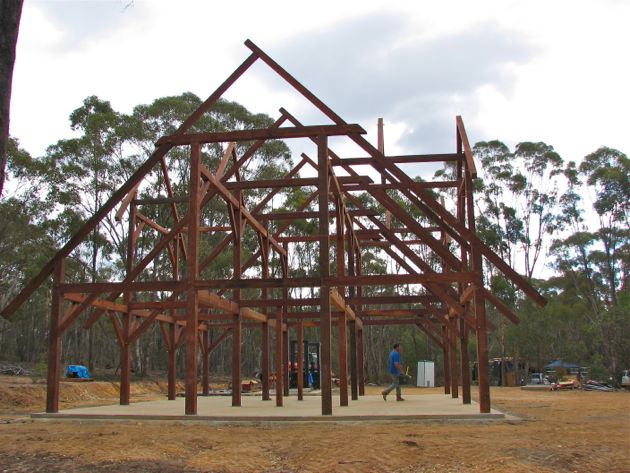 A 45 degree pitch was a must for this timber frame. The second story had to be high enough to accommodate a full height head space with two dormers on the front of the home and a cable at the back of the home.
Downstairs non-loadbearing joists were installed to give it more of a feel of connectedness with upstairs.
This home is located in an area of extreme heat during the summer and very cold temperature in the winter. Cavity mud brick walls and double glazing are helping to regulate the inside temperatures.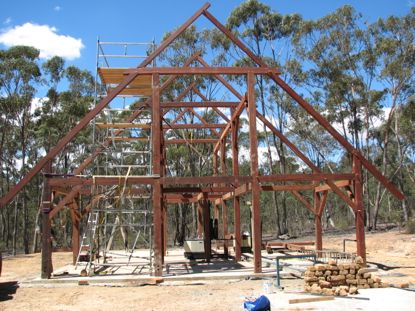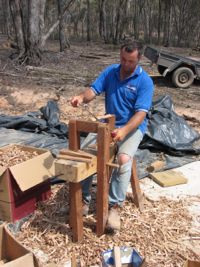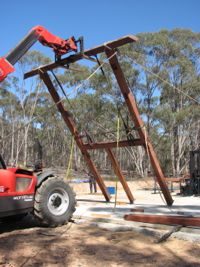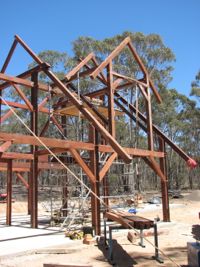 Cockatoo Valley Part House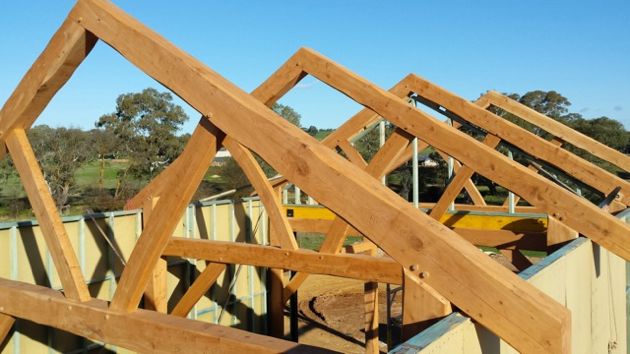 The prospect of including a timber frame into their dream home became reality for this young family.
Designing a timber frame into the central part of their new home and extending the frame to the outsides at the front and back has created a beautiful feel to this large family home.
The high frame at the back was designed to give a feeling of lofty space when sitting outside enjoying the native bushland.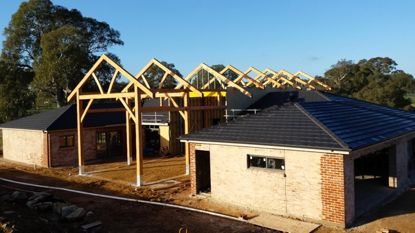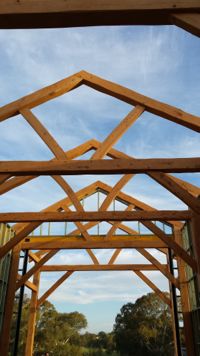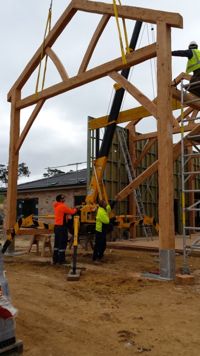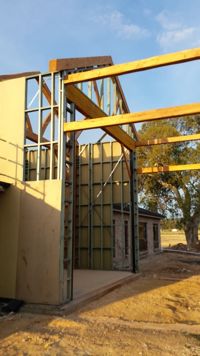 Narbethong House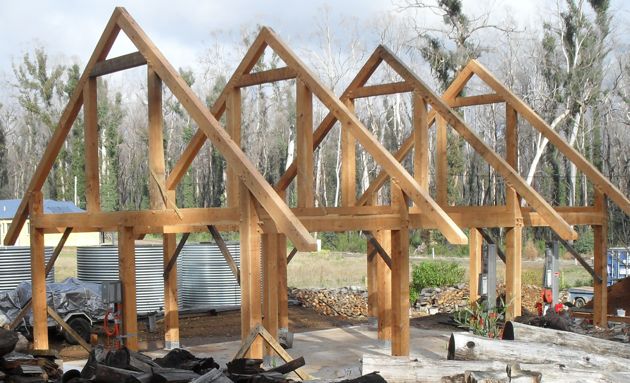 A small house, a simple timber frame and yet a beautiful structure.
The couple came to us two weeks after their home burnt to the ground after the Victorian bushfire and commissioned this frame.
The walls are mud brick, the timber frame visible inside, the upstairs uses conventional stud framing to create dormers for extra space and the whole home is built by the owners with love and care. What determination after having lost their previous owner built home right after completion.