Frames for Sale
Welcome to our FOR SALE page!
These frames have been crafted and are now offered for sale.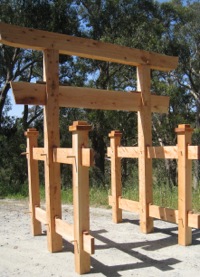 This beautifully crafted Japanese inspired Torii Gate is now for sale. This frame was crafted for our Garden Shows. it is time to let it go.
The frame stands 3.2m high, is 1.8m wide and 2.4m long and was crafted using cypress pine. The Torii Gate was crafted to a refined finish with the timbers sanded and oiled and sports these beautiful handcrafted wooden pegs.
The price for this Torii Gate amounts to $4000 (incl GST). This price is ex our workshop in Carey Gully and is for the frame as it is, dismantled and ready for shipment. The instructions on how to put the frame together will of course be supplied.
If you wanted post feet, the frame erected in your garden or shipment arranged, please contact Isabelle in our Office, who will be happy to give you a price for this.