No Nails ! No Glues !
Just wood and
unique traditional craftsmanship combined with modern efficiency !
An investment into your future !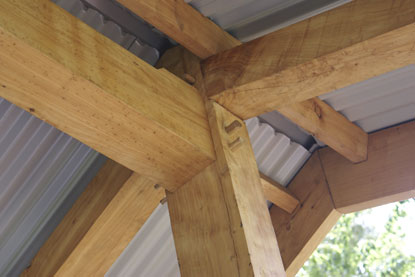 Our traditionally crafted timber frames are of exceptional quality, strength and beauty.
With the joinery on display as a design feature, our craftsmen ensure a high level of quality in their craftsmanship. Traditional timber framed structures have an elegance and timelessness that make a frame a fitting addition to contemporary and heritage style homes alike. Your investment is secured for decades to come.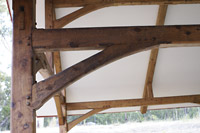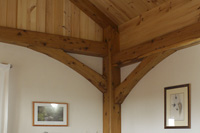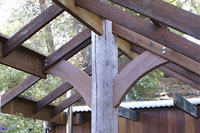 Traditional timber framing is a truly sustainable building form.
Our frames do not contain nails or glues. Our frames are crafted to last – ensuring that the environmental aspects and the long-term economics of your build are taken into account.
As a company, Timber Frames of Australia is committed to green building, working closely with our customers to maximise the energy efficiency of each design.
The connection of the timbers are within large cross section timbers where the joint is projected within.
This is particularly beneficial in a possible fire situation as the timber frame will char on the outside but not jeopardise the structural aspect of the timber frame.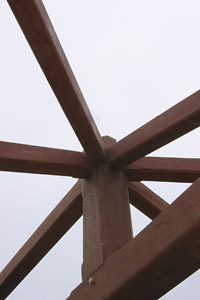 Our frames are engineered for the Australian climate including snow and cyclonic areas. There are various timber species available; our preferred timbers include red ironbark and spotted gum as hardwood and cypress pine as softwood. We have access to English Oak, European Oak and American Oak if that is the timber you prefer. These timbers are of high quality and very durable. The timbers are sourced from sustainable Australian sources, ensuring that sustainability is an integral aspect of each frame. If the timbers are sourced from overseas, we are very mindful of sustainability.
If recycled timber is your preferred choice of timber, then we can help source these timbers, design a frame around the available timbers and create an amazing space.
Our frames are crafted with green power supplied by a large grid connect solar power system on our workshop.