Sample Projects
You will find some interesting timber frame projects we have crafted for past customers.
Please click on the photo which will take you to a project description.
Houses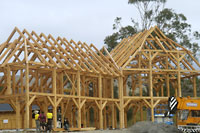 Beautifully designed, owner specific, 450 square meter home in the south of Adelaide. This is a two bedroom home with many beautiful timber framing features. Crafted from cypress pine, this frame took approximately six weeks to erect.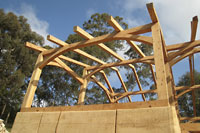 This beautiful timber frame sits on top of rammed earth ground floor walls. The home is a well designed family home with 4 bedrooms within the rammed earth walls and ample of living space on the top floor. Sitting on the balcony allows for some amazing views over the city of Perth.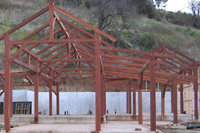 One of our first house frames, this beautiful ironbark frame provides ample space for 4 very spacious bedrooms, two bathrooms, an open plan, split level kitchen, dining and living room. When walking through the front door, one is embraced by the beauty within.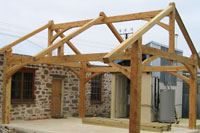 By adding this native cypress timber frame to the existing 100 year old stone cottage in Port Elliot, one is entering a spacious, modern and light family room. This spacious extension has created an inviting room of beauty and light.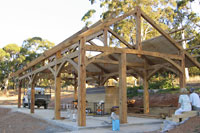 With a frame of 5 x 12 meters this very exclusive 'granny flat' offers visitors not only a spacious living area within but also a carport for two cars. Since its original frame work went up, a verandah/deck was added, creating an outdoor area for entertainment.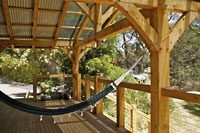 The aim for this large outdoor entertainment area and carport was to give the brown brick building a boost of new live. With the wide deck and an impressive staircase, the splendid garden around the home can now be fully enjoyed.
This free-standing outdoor structure has no diagonal braces from posts to tie beams/girts. The horizontal braces plus braced post shoes allow for clear, uncluttered spans.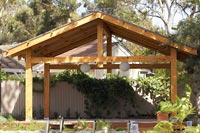 This beautiful design for a free-standing pergola provides a beautiful outdoor entertainment area. The timber frame is constructed from cypress pine, includes braced post feet and a beautifully fitting rafter/purlin construction.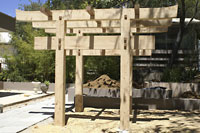 "Toriis" – very popular landscaping features that can give your garden or back yard a very special feel. There are many different designs.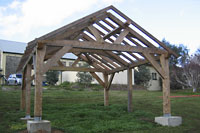 This Medieval Pavilion is placed in the Federation Park in Gumeracha, South Australia. This frame features one of the old English tying joints and stands proud amongst ancient gum trees.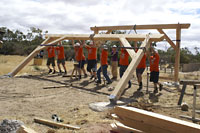 Our first timber framing workshop was held in 2008 at the Monarto Zoo, South Australia. Participants learned this beautiful ancient craft first hand. This course was fully funded by the Construction Industry Training Board of South Australia.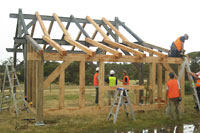 In 2010 a second timber framing workshop was held at the Monarto Zoo, South Australia to complete the first timber framed structure. Again, the Construction Industry Training Board of South Australia funded this workshop and gave trades people the opportunity to learn timber framing.
Please check out our FOR SALE page for frames that are currently for sale.